Readers, I'm super organised this year, and so I've put together a series on Christmas shopping for you.
I'm a massive fan of Christmas, and I'm super excited about my gift guide for you.
Because I know many of you spend your weekends either out running or cycling, and then in a coma on the couch because you are exhausted from said running and cycling, I've tried to make sure that most of these gifts can be ordered online. Yep, you can sit on your couch, wearing your compression tights, drinking your protein shake and get all your Christmas shopping done (maybe sneak a little something or other into the shopping cart for yourself too as a reward for all your hard training.)
Today, here is my guide for what to buy for the entire family!
1. Something to wear.
A matching family set of jumpers from
Grannies Inc.
This is a fantastic website where some Grannies in the UK personally knit your orders. You can either buy off the wrack, or get a custom design.
Can you imagine Lachlan's face come Christmas morning when he finds a family set of these babies under the Christmas tree?
Daddy, Mummy and Henry's matching Dinosaur Jumpers are on their way from the UK.
Note, this will not be the first time we have ventured out in matching outfits. How good do we all look? We will never get lost in a crowd.
This is at a brunch in Shanghai when Henry was about 6 weeks old.
I made these for Henry and I when I was pregnant. Shame I didn't also make some matching shorts for Lachlan!
Lachlan and Henry wearing the matching shirts that my good friend Jacqui gave us all for Xmas last year. I wasn't wearing mine on this day. It's now Henry's favourite shirt!
2. Something else to wear.
What could be better than a family set of quirky shirts from
Threadless
? Love this online store, and it's pretty reasonably priced. There is definitely something for everyone, and you can get their designs for guys, girls, kids, toddlers and babies. This year I'm loving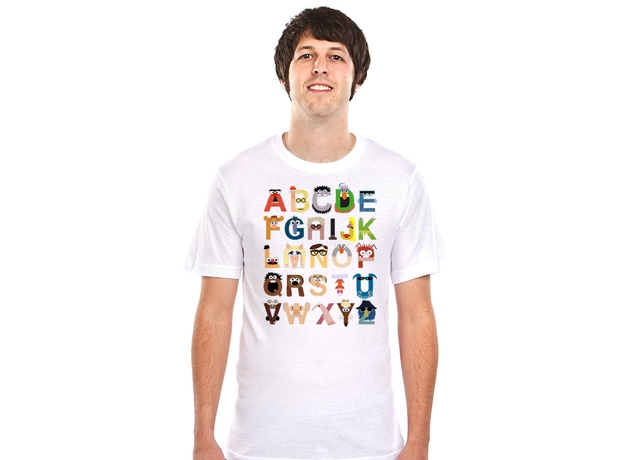 Muppet Alphabet - Henry loves to sing the alphabet right now. It's the perfect family gift. Fun, funky and educational!
3. Something to run and play in.
Oh yeah!
Feiyue
make and ship kids shoes. I bought my Feiyue shoes in Shanghai on Anfu Lu. There, they retail for around $AU10, and if you buy 10 pairs you get a pair free. Unfortunately, ordering from Europe they are not so cheap. However, it will be more than worth the price when Henry and I step out, looking like the total hipsters that we are, in our matching shoes (and our matching jumpers).
4. Something to ride together.
There is no such thing as a kids cervelo, but if you are obsessed with bikes (like I am) then you can get a
Trek
for the toddler / child in your life. They come in a range of sizes, from the smallest kickster model to bikes with training wheels, up to mountain bikes for older kids. Just don't forget to also buy a helmet - no matter how young they are, it's such an important habit to get into. Safety first!
5. Something to sleep in.
Last year Henry and I got matching Christmas pjs from Santa from Cath Kidston. They were very nice.
These
are less nice, but will work nonetheless. If Santa is not your thing, there are a ton of options on
amazon
. (Then just buy yourself something nice from
Cath Kidston
instead, and it doesn't have to be Christmas themed.)
They look so happy! It must be the matching jammies.
6. Something to watch together.
Here are my boys watching the Gilmore Girls.
Transfixed!
It's suitable for all the family, and because it's a super long series, you can enjoy it time and time again. A great investment! Get the entire
box set.
7. Something to do together.
The thing Henry will likely remember from his time in Hong Kong, is getting dragged to races on Sunday mornings in the dark and wet.
Find a race you can all do together. "Train", and enter. For example, in Sydney, you can enter the
City to Surf
with a stroller. In Hong Kong, there are plenty of shorter races, suitable even for the youngest of participants. For example, last weekends
UNICEF Charity Run
included a 3km family fun run. I think even Henry could do that! It's a fun, fit, family day out.
The City to Surf
8. Something to celebrate your family with.
It's the season to celebrate, so celebrate your family everyday! It's a bit kitsch, but these
family stickers
, which you can get customised are really fun. We had a set in Shanghai. Toddlers loved to try to peel them off the wall. Adults loved them because they made our house look AWESOME. There are a ton of options to chose from. But beware.... it's a bit of a time waster, sitting on the internet for hours designing clocks, and mugs, and shirts and calendars....
Stay tuned for other parts in this series... including, what to by for the sporty lady in your life!
Happy
Christmas
shopping everyone!